His music comes to him from The Stream. When he sits down to play, he casts his line. Sometimes he has no preconcieved idea as to what he might find. He only knows the ideas will come to him . . . from somewhere.

As he composes, what he feels is The River as it washes over him.

The River of Life.
Gauguin

The artists comments about this CD:
I have long admired the work of Paul Gauguin. But more than that I have been intrigued by the life of the man. What I knew - or thought I knew about him - was that he was so consumed with painting the beautiful landscapes and people of the Marquesas Islands, that he gave up his life as a banker, abandoned everything he had known and sailed south to live his dream. Well, part of that story is true, anyway. He didn't abandon his family in as much as he came to an agreement with his wife that they would all probably be happier if he painted. And the islands is where he wanted to paint. She obviously loved him enough to let him be free. For those that might think Gauguin abandoned his family, I think it's noteworthy that his son was instrumental in getting his memoirs (I mention them below) published. His touching forward in the book shows he still loved his father greatly and no bitterness seems to be evident about his fathers choice to answer his calling
As I mentioned I enriched my knowledge of the man by purchasing a book entitled "Gauguin's Personal Journals" (first published in 1921 by Boni and Liveright and subsequently reprinted several times under various imprints). The more I read about his life in his own words, the more fascinated I became. And the more I read about his journey and the incredible hardships he suffered to do what he felt he was born to do, the more I came to admire the man. Each successive page revealed yet another fascinating insight - for example the fact that he had such disdain for organized religion. And the fact he constantly advocated for the natives of the island in disputes between them and their uninvited caretakers, the French Government. This fact, often ignored in the folk legends about the man, resonated deeply with me. It's quite evident by the journal entries that Gauguin was a very opinionated man (another character trait I can relate to!) and was deeply passionate about his beliefs. Especially as they pertained to his theory of "purity" and "innocence". These qualities he found in the local native population were at the center of his art and his creativity. His experiments with light and color - techniques at first borrowed from the Japanese Masters - were quickly transformed through the artists own vision and genius into something wholly original. A great treasure left behind for us all. This CD is my personal tribute to him. .

j.s. 7/2/2006

Home

The artists comments about this CD:


Consider the idea that the energy that is creation might be an enormous river that runs through the very fabric of the human soul. And that all souls are thusly connected. Then picture we humans spread out on its banks with our creative tools, our metaphoric fishing polls "pulling" art, be it aural (music of all kinds), written (books and poetry), visual (painting, drawing,), tactile (sculpture, architecture etc.) from its depths. People who are more sensitive - like artists - are better equipped and more experienced anglers and therefore "catch" more! If you can imagine this far, then consider that if one part of an art piece - one "fish" - escaped one angler would it not be possible that another could then catch it further down the bank? Or that it could even be recaptured by the same person again as time and the river run their cyclical routes?
"Home" is a collection of "little fishes" - bits and pieces that have formed a touchstone for me - a place to return to. Some of this catch have waited thirty years for me to "re-catch" them. Of course there are new concepts, discoveries, sounds and ideas. And even a composition co-authored by Progressive Music legend Hugh Hopper! We accomplished this fete in the same manner Hugh has been using for working with all sorts of writers lately. That is to say "trans-Atlantically". By sending music files (or "noodlings" as Hugh calls them) across the ocean to each other on CD-Rs. Bouncing things off each other and generally having a great time. I met Hugh at the inaugural The Progman Cometh Festival last August and found him to be a most open minded and warm gent. The fact that he played bass and wrote songs for one of my biggest musical influences - Soft Machine - may have had a little to do with my wanting to record with him. He's a true innovator and I feel The Fates have favored me by allowing this collusion to occur!

j.s. 6/17/2003
Above & Beyond
The artists comments about this CD:

"To fully enjoy this particular collection of compositions, the listener must first free their mind.
These pieces are what I call "organic creations" in that part of the process of their birth consists of undefined and unplanned random elements of chance. And even chaos. In truth at some points the music itself took over the creation process. I won't hazard a guess as to how, though I do have my theories.
Furthermore, four of the tracks here were constructed to be a listening environment, not a two-dimensional aural presentation. Like the the Abstract Expressionist art they seek to emulate, they ask the listener to let go of his or her preconceived concepts of 'music' and let the very substance of their being impact them. At first emotionally and then cerebrally.
Do yourself a favor and listen to them in the dark with your favorite stereo headphones. If you find yourself being transported elsewhere, I have fulfilled a deeper purpose."
j.s. 6/22/2002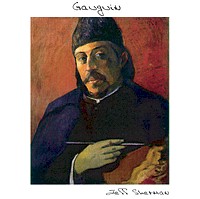 Upcoming Release:

Gauguin
Jeff Sherman

TO BE RELEASED
Spring 2009
Gazul (Musea) Records

JEFF SHERMAN:
Ensoniq Dsk1 Sampler, Ensoniq Dsk8 Sampler,'74 Alembic Small Standard Bass, KORG O1W Sampler, KORG KP2 KAOSS Pad Dynamic Effect Controller, Fatar StudioLogic MP-113 Bass Pedals,"Soundforum" Virtual Synthesizer software (by Stephan Schmitt), Line 6 DL4 Delay Modeler Pedal, Modified and Collected Digital Nature Sound Sources, Assembled Dream Bird Chorus Sample, Original Digital Sound Sample Modification Recordings, Modified Samples of 'Tantric Harmonics' by the Gyume Tibetan Monks, Modified Gregorian Chant Samples performed by the Schola of the Hofburgkapelle of Vienna, Modified Bass Samples and Loops, Bottleneck Slide Bass, Rainstick


GREG SHERMAN:
KORG MS2000 Synthesizers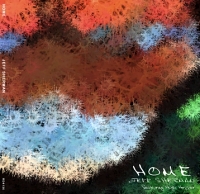 Currently OOP
Can be custom ordered by emailing this address:
relentls@ix.netcom.com

Home
Jeff Sherman
(featuring Hugh Hopper)
Relentless Pursuit Records RD4135

JEFF SHERMAN:
Ensoniq Dsk1, Ensoniq Dsk8, Mellotron, Magnus Chord Organ, Thorn Inlay Custom Bass, '73 Gibson J-45 Acoustic Guitar, Alesis H-16 Drum Machine, Digital Samples, Analog Tape Recordings, Original Digital Sound Sample Recordings, Flute, Ashtray, Shovel, Assorted Silverware


GREG SHERMAN:
Acoustic Piano (on "Euphoria. . Core Recording), Synthesizers

Hugh Hopper:
Monster Fuzz Bass, Double-Speed Bass, Looped Effects, Tape Loops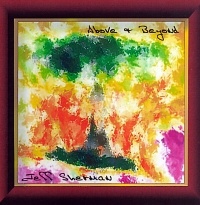 Above & Beyond
Jeff Sherman
Relentless Pursuit Records RD4133
Per the artist's wishes:
THIS IS A LIMITED EDITION CD!
There will only be 246 original Relentless pressings. Each CD is hand numbered and initialed by Jeff.

JEFF SHERMAN:
Fender Rhodes Piano, Ensoniq Dsk1, Ensoniq Dsk8, Hohner Pianet, Arp Odyssey, Mellotron, Sequential Circuits Prophet 5, KORG O1W-FD, Fender Precision Bass, Thorn Inlay Custom Bass, Electric Sax-Synth, Fatar StudioLogic MP-113 Bass Pedals, Alesis H-16 Drum Machine, Digital Samples, Analog Tape Recordings


GREG SHERMAN:
Acoustic Piano
Maracas